Why Sell FREE & CLEAR Real Estate
At Roman rules no reserve auction?
Simple; to get the absolute top dollar price established by open bidding at a professionally produced real estate auction event!
FACT: AN ABSOULTE AUCTION STOPS ALL BUYING ACTIVITY IN YOUR SUBDIVISION UNTIL AFTER THE AUCTION!
Free & Clear sellers get 100% Present Cash Market Value paid to you all cash 30-days or less after the auction direct from escrow.
Your property is sold as-is where is with little to no fix-up costs.
NO CONTINGENCY OTHER THAN SELLER DELIVERING FREE & CLEAR TITLE TO THE PROPERTY.
Realtors deliver buyers to earn up to 3% commission
BUYER PAYS COMMISSIONS & CLOSING COSTS
Buyers are pre-qualified with "painful" non-refundable hard money deposit
Escrow & settlement is closed the same as "regular" negotiated sales
DO YOU WANT TO SELL YOUR PROPERTY HASSLE FREE FOR TOP DOLLAR?
Let's face the facts about today's real estate market, the longer you wait to sell your property, the less you will get when it finally sells.
The Auctionarium, Inc is a California DRE licensed real estate corporation set-up specifically to list and sell real estate at auction to the highest bidder for cash.
Traditional Realtor methods are broken and don't work in this market
If you are one of the smart people who own free & clear and did not use your house as an ATM machine, guess what?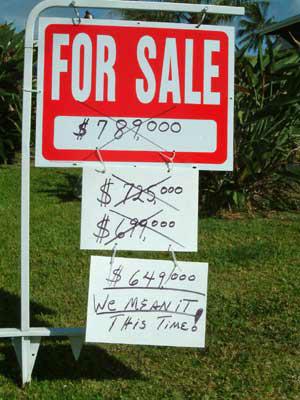 You are competing against:
Bank foreclosures at pennies on the dollar to build.
Short sales with desperate sellers and realtors willing to do anything.
Builders & developers desperate for cash selling at any price
Unrealistic sellers with overpriced homes that are not selling at all.
Did you know that only 1 home a month is selling here in prestigious Rancho Mirage, California?
That is because of unrealistic expectations of sellers and unprofessional realtors that are afraid to tell sellers the truth.
Smart people who own free & clear are being penalized by the market conditions.
If you price your property too low, it sells too fast.
There is nothing sadder to the real estate auctioneer than hearing "we sold in less than a week" because we know you left a lot of money on the table.
Price you home too high and it sits on the market with the other 10 million homes for sale.
Sell to the highest bidder for cash and you will see more activity at that property than you have ever seen.
The New York Stock Exchange is the biggest absolute or unreserved auction in the world with over $40 trillion in corporate equity changing hands every day.
Selling your free & clear real estate at auction is the only logical choice!
The Roman rules of the Auctionarium which is the original body of law governing real estate auctions dates back over 2,000 years and has not changed:
Everything is sold as-is where-is with all faults
Everything sells to the highest bidder with no minimum bids and no reserve prices
Payment in cash money is due before transfer of title
A properly advertised and promoted auction will deliver 100% of a property's "present cash market value" 100% of the time, usually with no seller commissions.
The traditional cost for producing a real estate auction is 2% to 3% of the projected selling or reserve price of a property, pre-paid by the seller which often costs tens of thousands of dollars per property.
If you read the newspapers, listen to the radio or watch the news on TV; the message is nothing but doom and gloom about the real estate market, if you are trying to sell using the broken list, price, put up a sign and place it in the MLS methods, they are correct and your property can sit on the market for years with no bids or contingency "offers" while losing value each and every day.
The good news is an auction is an event where bidders "win" the property and are happy knowing they only paid one bid more than someone else was willing to pay.
Competitive bidding will deliver 100% of the present cash market value for your property on a specific date all cash in as-is condition with no contingencies and a quick closing, with no seller commission. The buyer pays our commission, the escrow & closing fees in the spirit of 2000 years of auctioneer traditions.
HIGH IMPACT AUCTION MARKETING CREATES THE SELLING EVENT FOR YOUR PROPERTY:
High impact marketing & advertising campaign featuring your home.
Personal promotion.
Custom built Internet information page, with pictures, reports & community information.
TV Commercials on local cable calling buyers to action
Print advertising.
Signs on-site (when allowed) and directional / bandit signs advertising the event.
Internet bidding static eBay style and webcasting
Internet ads to thousands of websites advertising your property will be sold on a specific date
Inclusion in USA e-mail blast of up to 1,000,000 subscribers (opt-in non- spam email list)
Digital Bidder Information Packages available on-line 24-hours a day
2 to 3 scheduled property previews to create urgency (buyers preview at scheduled times)
3% Buyers agent realtor co-op commission to include the local real estate community
NO SECRET ONE-ON-ONE NEGATIVE HAGGLING * SIMPLE UPWARD PRICING
Live auction event webcast across the Internet.

1 In A Million AARE Auctioneer at your Service!

Less than 350 people hold the A.A.R.E. (Accredited Auctioneer Real Estate) designation, yet over 1-million properties were sold at auction in 2010.
Compare 350 A.A.R.E. Auctioneers selling over 1-million properties to 1,500,000 realtors selling a little less than 5-million properties.
Do the math and ask yourself who has the track record to deliver cash for your real estate regardless of the market conditions.
Do you want 1 in a million who delivers cash day in and day our or do you want 1 of a million who has never experienced a down market?
An auctioneer with the AARE designation has gone the 'extra mile' to ensure they offer the highest level of professionalism and the most up-to-date information when it comes to selling properties. Whether selling residential, agricultural, commercial or industrial properties, AARE auctioneers have enhanced knowledge in all pertinent areas, such as:
Marketing techniques
Financial/investment calculations
Evaluating cash flow
Holding-period analysis
Tax consequences of buying and selling properties
Multi-parcel real estate auctions
Service - Before, During and After the Sale
AARE Auction Company is owned and operated by A.A.R.E. & C.A.I. accredited auctioneer plus we are a government certified, nationwide real estate Auction Company that combines 2,000 years of auctioneer traditions with 21st Century technology and tools. We provide sellers of real estate a simple one-stop-shop to convert property of any type into cash on auction day, usually with no seller commissions.
Targeted global reach direct marketing program
Traditional 'Live' Auction with online Pre-bidding
Live webcast auction to pre-qualified bidders in real time with the live auctioneer.
National Auctioneers Certified Auctioneer Billy Burke, CAI - AARE
Nationwide network of licensed & certified auctioneers for out of state properties.
Certified home inspections for homes worth over $85,000
Professional due diligence packages available on-line to a global audience
Coordination of closing with local Title & Escrow companies
Closeout reporting to government standards
WHAT NEXT?
Call The Auctionarium at 760-328-7570 to schedule a private one-on-one consultation or e-mail auctions@theauctionarium.com
If you want to sell your property at auction there is a one-time advance auction entry fee.
If your property is listed with an agent we can pay them a referral fee so you can enter the auction. The closing and settlement process is exactly the same as with any other real estate transaction using a local licensed, bonded and insured title company. You do not need to be present at either the auction event or closing.
You may begin the process of entering your property on-line by clicking here.
If you have questions, please feel free to call me at 443-235-9656 to discuss your personal situation or allow us to explain how the process works in detail.
Thank you for the opportunity to deliver cash for your property.
Sincerely,
William F. Burke, C.A.I. - A.A.R.E. Auctioneer
443-235-9656 Direct Line
What is the next step to get started?
The process is simple and easy for sellers:
Execute a Uniform Real Estate Auction Listing agreement
Pay the $3,495 auction entry fee for a 'basic' home auction with reserve
Fill out the property disclosure statement about your property
Let us do the rest
If you are not sure and need more information, click here for a FREE auction analysis of your property